As the only licensed cannabis retail store in the city of Sault Ste. Marie, our goal is to completely redefine what it feels like to buy cannabis. 
To start, our new store in the Soo was built with 100% local talent. All of the contractors, suppliers, inspectors and staff who helped to bring this store to life are from Sault Ste Marie and we believe it shows.
From the stunning steel features and the utilization of raw wood throughout, this store is an homage to the Soo. Our hope is that by redefining the experience of purchasing cannabis, we can help dissolve the negative stigma associated with cannabis. 
We hope that you feel like the entire in store experience is beyond what you ever expected.
Second, we are striving to be a stalwart member of the community by operating a sustainable business with as low of an environmental impact as possible. To do this, we've eliminated plastic bags and will only use 100% recycled paper bags. We've also instituted a free to use recycling program so that customers can bring their containers in store to be recycled.
On top of this, we are also a certified Living Wage organization, which means we provide employee compensation above and beyond the living wage to our staff and contractors.
Hello Cannabis Hamilton opened it's doors on Saturday, January 23rd, 2021.
This is the second Hello Cannabis in Hamilton after the Hello Cannabis Store opened its doors in the spring of 2019.
Hello Cannabis Hamilton is located at:
1557 Main Street East
Hamilton ON
L8K 1E5
Call us at:
905-521-3170
Hours:
Mon-Sat: 10:00-21:00 | Sun: 11:00-18:00
Hello Cannabis London is located at:
73 York St
London ON
N6A 1A6
Call us at:
519-432-0888
We're expanding across Ontario in 2021 with locations coming to the following cities.
HAMILTON
GRAVENHURST
HUNTSVILLE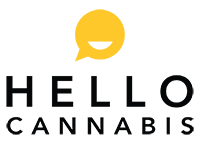 Keep in touch
Stay in the loop for weekly updates on new products and exclusive offers.